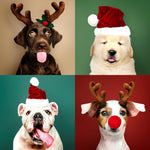 Christmas Gift Ideas for Your Dog
It's that time of year again and as you make your way through the list of who you need to shop for, you can't forget your four-legged family members. Our beloved canine companions might sit on our laps with no problem, but they can't exactly tell us what they want for Christmas.
Since we spoil our pets all year long, coming up with Christmas gift ideas for your dog might be a bit overwhelming. No need to worry though, we've got you covered! Here's a look at some top-notch gifts for your precious pup.
Alpine Dog Co. Tacti Luxe Dog Collar
https://alpinedogco.ca/products/limited-edition-alpha-tactik-dog-collar-gold-noir
The Tacti Luxe collar is an absolute favorite among dog owners. These collars are both stylish and durable. They are perfect for medium to large-sized breeds and feature a convenient handle to give you more control in those unexpected situations. 
There are several style choices for the Tacti Luxe collars, including the colorful ode to the 80s classic, Richie Rich. You also don't want to miss out on your last chance to capture a piece of company history with the Golden Noir Tacti Luxe collar. This sleek, elegant collar will be the last of its kind to display the Alpha Dog Co. logo.
Yeti Boomer 8 Dog Bowl
If you want to equip your dog with a top-rated dog bowl that can either be used daily or on the go, the Yeti Boomer 8 is a fantastic choice to have wrapped up under the tree. This bowl comes in many different color options to suit your preference.
It holds up to 64 ounces of food or water and features a non-slip ring around the bottom to keep it securely in place. The Yeti Boomer 8 is crafted from durable stainless steel and is rust-resistant, puncture-resistant, and even dishwasher-safe.
Alpine Dog Co. 2" Martingale Collar in Rose
https://alpinedogco.ca/products/martingale-dog-collar-rose
The Alpine Dog Co. Martingale Collar will make an ideal gift for dogs that tend to be a bit stubborn and try to back out of their collars. Since the martingale style is designed to tighten slightly with tension, it gives you more control when your dog is on a leash and prevents them from slipping the collar.
Rather than sliding over the head, this collar clips on to prevent you from continuously adjusting it to find that perfect fit. This is a great tool for training and the rose' will look stunning against your dog's coat. You can even go a step further and deck your pup out in full rose' with this gorgeous Tacti Dog Leash.
Jolly Ball
One of the best dog toys you can offer your dog this holiday is a Jolly Ball. These toys are durable and fun, and they will also promote healthy activity while keeping your dog busy and entertained. No matter your dog's play style, Jolly Ball will have something to suit their needs.
Take your pick from the Soccer Ball, Tug-n-Toss, Romp-n-Roll, Bounce-n-Play, Teaser Ball, or Push-n-Play. Each of these toys comes highly reviewed by fellow dog owners and will make the perfect gift for your pooch to unwrap on Christmas morning.
1.5" Tacti Dog Collar Slim Luxe in Cognac
https://alpinedogco.ca/products/1-5-tacti-dog-collar-slim-luxe-cognac
If you are looking for a collar that is best suited for puppies or medium-sized breeds, look no further. The Tacti Dog Collar Slim Luxe is going to be Santa's best bet. It features a dual-release buckle and a handle for extra security to keep you at ease and your dog under control.
This collar is crafted from premium nylon and lined with neoprene, so durability is guaranteed. The cognac will stand out and look great against any coat color and don't forget to complete the set with the matching leash.
Bedsure Orthopedic Dog Bed
Give your best friend a comfy place to lounge this Christmas with this orthopedic dog bed from Bedsure. It's crafted with memory foam to contour your dog's unique shape to provide them with a snuggly place to nap while giving them optimal support.
This bed can be used anywhere and is easily portable if you need to take it on the go. It has a removable cover that is machine washable for easy cleaning and a non-skid bottom to keep it in place. The water-resistant cover coupled with the full-coverage inner liner will help protect the memory foam from any accidents or spills.
2" Tactik Dog Collar (No Handle) in Olive
https://alpinedogco.ca/products/2-tactik-dog-collar-no-handle-olive
If you want a Christmas gift for your dog that is going to give you great value for your money, you want to check out the 2" Tactik Dog Collar from Alpine Dog Co. This collar comes in three color options, with olive being an all-around favorite. 
This handle-free collar is made from top-notch materials and is built for durability. Not only will it stand the test of time, but you can rest assured it can hold up against your dog's incredible strength. You can even buy the matching olive Training Dog Leash or Tacti Dog Leash to get a matching set that suits your needs.
Chuckit! Sport Launcher
Does your dog love to play fetch? If so, this Chuckit! Sport Launcher would make a great Christmas gift for the two of you. You get to skip out on picking up that slobbery ball and your dog can enjoy hours of fetch.  
The launcher features an ergonomic grip and comes in different size options, each one suited for the 2.5-inch Chuickit! balls. Once you try this out, you'll never want to play a game of fetch without it. Not to mention, your pup is going to love it!
Pack Walker Travel Bag
We don't want to leave the owners out, so check out this Pack Walker Travel Bag. It makes an excellent gift for humans needing to carry around the essentials when out and about with their four-legged friends.
It can be worn as a sling or around the waist and is perfect for toting around all the knick-knacks. From poop bags to treats, to cell phones and chargers the Pack Walker Travel Bag will keep them secure and easily accessible. It comes in Retro or Graphite color options and can be adjusted for the perfect fit.
Open Farm Dehydrated Dog Treats
https://openfarmpet.com/en-us/products/dehydrated-turkey-dog-treats/  
Stuff your dog's stocking with these deliciously nutritious treats from Open Farm. This Toronto-based natural pet food company is best known for its sustainable practices. Their meat sources come from farms that put animal welfare at the forefront and each bag is stamped with the Certified Humane label.
Every ingredient in the treats is traceable using the lot code on the back. Real meat is always the number one ingredient and low-temperature dehydration is used to retain the most nutrients. These treats come in several flavor options and just a sniff is bound to get your dog feeling jolly this holiday season.
Now that you have some great gift ideas for your good boy or girl this Christmas, hopefully, it can ease the stress of Christmas shopping just a bit.