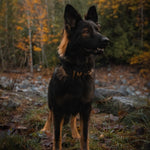 After a long, chilly winter, spring has finally arrived in Canada! It's time to put away those winter coats and boots and embrace the warmer weather. And what better way to enjoy the season than with your four-legged sidekick by your side? Spring is the perfect time to bond with your dog and explore the great outdoors together. To help you make the most of this beautiful season, we've put together a list of the 5 best ways to enjoy the spring weather with your dog in Canada.
Go on a Hike:
One of the best ways to enjoy the spring weather with your dog in Canada is to go on a hike. With the snow melting and the flowers blooming, the trails are calling your name! Canada is home to countless beautiful hiking trails that are dog-friendly, so you and your furry companion can embark on a new adventure. Make sure to research the trail beforehand and check for any restrictions or regulations for dogs. Bring plenty of water and snacks for both you and your dog, and don't forget to pack a leash, waste bags, and other essentials. Also, remember to respect the environment and wildlife by staying on designated trails and cleaning up after your dog. Only allow your dog to roam off leash in areas where it is acceptable, and if your dog is trained on recall. A pro tip would be to have towels in the car, as this season can be muddy and may trails have areas to swim in!
Want to look up some examples? Visit https://parks.canada.ca/ to search by your area and see what's close by, or plan a road trip!
Some great gear to have with you is a handled collar or 1-2ft traffic leash if you're venturing out off-leash. This will give you the ability to gain control over your dog really quickly in an unexpected situation with other hikers, dogs, or wildlife. A "skunked" dog can really ruin a day trip! 
A set like this one has both options that can save the day by providing immediate control. 
Alpine Dog Co. - Olive 2" Tactik Collar  and the Olive 1.5FT Traffic Leash
Visit a Dog-Friendly Beach:
As the weather warms up, why not head to a dog-friendly beach for some fun in the sun with your pup? Canada has numerous dog-friendly beaches along its coastlines and lakeshores, where your dog can splash in the water, dig in the sand, and play fetch to their heart's content. Just be sure to check the local regulations and follow any leash or waste disposal rules in place. Remember to bring plenty of water and shade for your dog, and keep an eye on them at all times to ensure their safety.
Here's some links with great suggestions for a day trip:
https://www.canadiantraveller.com/Canadas-Top-10-Dog-Friendly-Beaches
https://www.bringfido.com/attraction/beaches/country/canada/
Grab a bite at a Dog-Friendly Patio:
Many restaurants and cafes in Canada have dog-friendly patios, making it a great option to enjoy the spring weather with your furry friend. Check for dog-friendly establishments in your area and plan a visit to a patio where your dog can relax by your side while you enjoy a meal or a drink. Make sure to follow any patio rules and regulations, such as keeping your dog on a leash, being mindful of other diners, and cleaning up after your dog. It's a great way to socialize your dog and spend quality time together in a relaxing outdoor setting.
Find some great eats here:
https://www.sidewalkdog.com/dog-friendly-patios-in-canada/
https://moderndogmagazine.com/articles/dog-friendly-patios-canada-guide/171904
Take a Bike Ride:
With the warmer weather and longer days, spring is the perfect time to hop on your bike and explore the outdoors with your furry companion. Many cities and towns in Canada have dog-friendly bike paths or trails where you can enjoy a leisurely ride with your dog by your side. Before you head out, make sure your dog is comfortable with being near bikes and is trained to walk or run alongside you safely. Remember to bring plenty of water for both you and your dog, and consider using a hands-free leash attachment to keep your hands on the handlebars. Always prioritize safety and follow local biking regulations.
Here's some helpful links if your dog is into biking with you!
https://hikingwithdogscanada.com/biking-with-your-dog-in-canada-what-you-need-to-know/
https://cyclingmagazine.ca/sections/travel/10-dog-friendly-bike-trails-across-canada/
Attend a Dog-Friendly Event or Festival:
Spring is the season for outdoor events and festivals, and many of them in Canada are dog-friendly! Look out for dog-friendly events happening in your area, such as dog-friendly farmers markets, pet expos, or charity walks. These events provide a great opportunity for you and your dog to socialize, meet other dog owners, and enjoy some fun activities together. Just make sure to check the event's rules and regulations, and ensure that your dog is well-behaved and comfortable in crowded environments, and comfortable wearing a muzzle if they're reactive so both of you can stay safe and protected. Also, remember to bring water, treats, and waste bags for your dog's needs.
Find an event near you!
https://www.bringfido.com/event/country/canada/
https://moderndogmagazine.com/articles/dog-friendly-events-activities-canada/104989
With these five suggestions, you and your favourite companion can make the most of the spring weather and create lasting memories together. Always prioritize the safety and comfort of your dog, and be sure to follow local rules and regulations wherever you go. Happy springtime adventures!